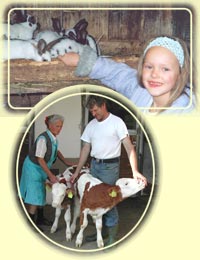 Some of our land is used as pasture for young cattle and part of our 5 hectare property is cultivated with cereal crops for the animals.
In our garden we grow herbs, vegetables and potatoes. As well as this, we also make the typical dish of 'sauerkraut' from our homegrown cabbages.
Children are always thrilled by the arrival of a new-born calf. They are fascinated by the work on the farm and help out with feeding our chickens, cats, rabbits and guinea pigs. Flora, our faithful dog, is never too far away.