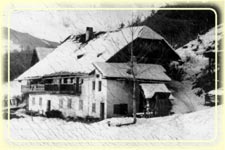 The "Brandlmaurer" farm dates back to at least the sixteenth century. At that time, the farm's inhabitants were a ropemaker and a stonecutter. and the present farm names "Bandler" and "Maurer" derive from the words for these two occupations. The two families lived together with their animals in one house, the chickens lived in the kitchen and the cowshed was in today's cellar.
Our great-grandparents Paul und Zäzilia Kirchler, from the Ahrntal valley, bought one part of the farm, the Maurerhof, with 3 hectares of meadow in 1928. On 22 June 1931 a fire destroyed the two separate farms, whose names were "Bandler und Maurer an der Sonne" - "Bandler and Maurer in the sun" and they were subsequently reconstructed separately.

In 1952 Balthasar, the oldest son, took over the farm and married Aloisia Tauber from Reischach. In 1958 Paul was born. As he was the only child, he has always had to help from a very young age.
The first summer holiday guests came in the Sixties. Shortly afterwards, with the increase in ski tourism at the Kronplatz, the winter-holidaymakers came too. The first cable railway opened in 1963.
Mother Aloisia then offered bed and breakfast and indulged the guests with traditional food.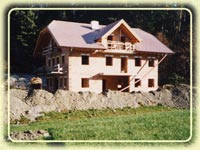 Paul took over the farm in 1983 and married Elisabeth Steger from Geiselsberg. In 1984 Markus was born, two years later Andrea and the youngest, Isabel, was born in 1995.
The new residential house with four holiday flats was erected in 1994. Guests have been staying at the new apartments since 1998, bringing with them children, grandchildren and friends of the first ever visitors to Maurerhof.